Do you use Ambient Occlusion to improve your renders? If your answer is yes, then you probably know all the different ways to create it.
What is Ambient Occlusion?
For those of you who are not familiar, here's a brief description. Ambient Occlusion helps in more accurate visualization of shadows in your scenes. This is a monochrome image, which is rendered through 3ds Max or other 3D software package you use, then processed in Photoshop, After Effects or other. White color and light gray nuances are not visible. The enhancement of shadows is made by dark gray and black color. There are several ways to create this image – by V-Ray settings, using V-Ray Dirt or by script like V-Ray Ambient Occlusion. In the video below Alex from VRayGuide is showing the method using this script.
The Problem
If you paid attention you've probably noticed that all these methods work only with pure geometry. And if you have made any bumps and wrinkles through Displacement or Bump map, this effect will not be visible in Ambient Occlusion and you will get only a smooth surface. And this is not good for the end result that you want to get.
The solution – Quick Passes
Some time ago I also had this problem. After some digging on Google I found a solution and decided to share it with you. The solution is to use another script called Quick Passes. This is a useful tool that allows you to render different passes such as Black-White mattes, Reflections, Shadows, ZDepth and of course Ambient Occlusion. Unlike all other methods, Quick Passes add shadows to any displacements obtained through maps. And it also works very quickly.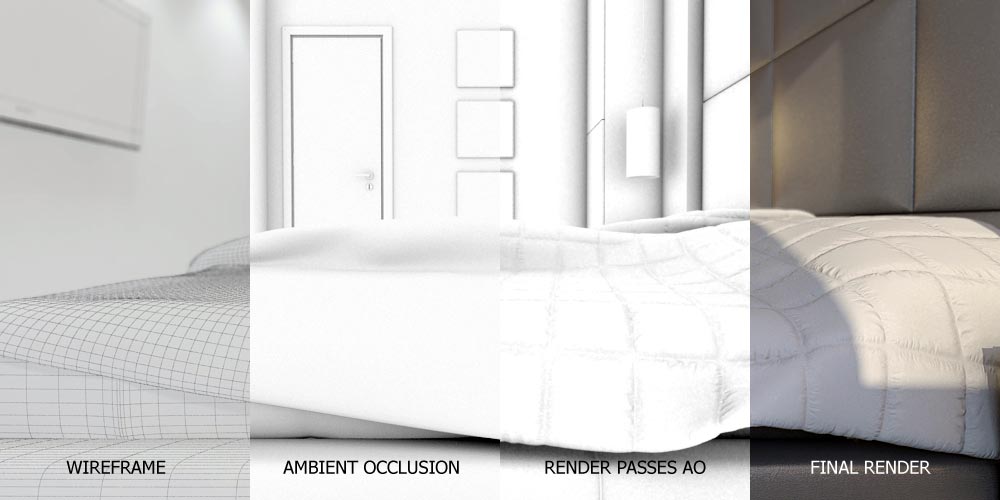 The latest stable version is 2.5, but I had problems with it on 3ds Max 2012, and it did not work. So if you have problems with 2.5 I recommend you using the latest beta version. This script works with V-Ray, Mental Ray, Scanline and Quicksilver renders, and all versions of Max from 2008 and above.